How To: Add OwnerRez Integration in Lynx
In order to link an OwnerRez property to a Lynx property, you will need to perform the following steps:
The Process Summary:
| | | | |
| --- | --- | --- | --- |
| Actions | Who Does It | Where | Timeline |
| Setup Manual lock in OwnerRez and select properties you are planning to link with Lynx | Customer | OwnerRez | Immediately |
| Add OwnerRez integration and Authorize Lynx | Customer | Lynx | Immediately |
| Link Lynx Property to OwnerRez properties to start syncing reservations | Customer | Lynx | After the locks are linked to each property |
| View Lynx generated access code back in Lynx | Customer | OwnerRez | After the reservations are synced for a specific property(s) |
1. Create a Manual Lock on your OwnerRez account
In the OwnerRez app, g

o to Settings, Door Locks, and click Connect Manual Locks.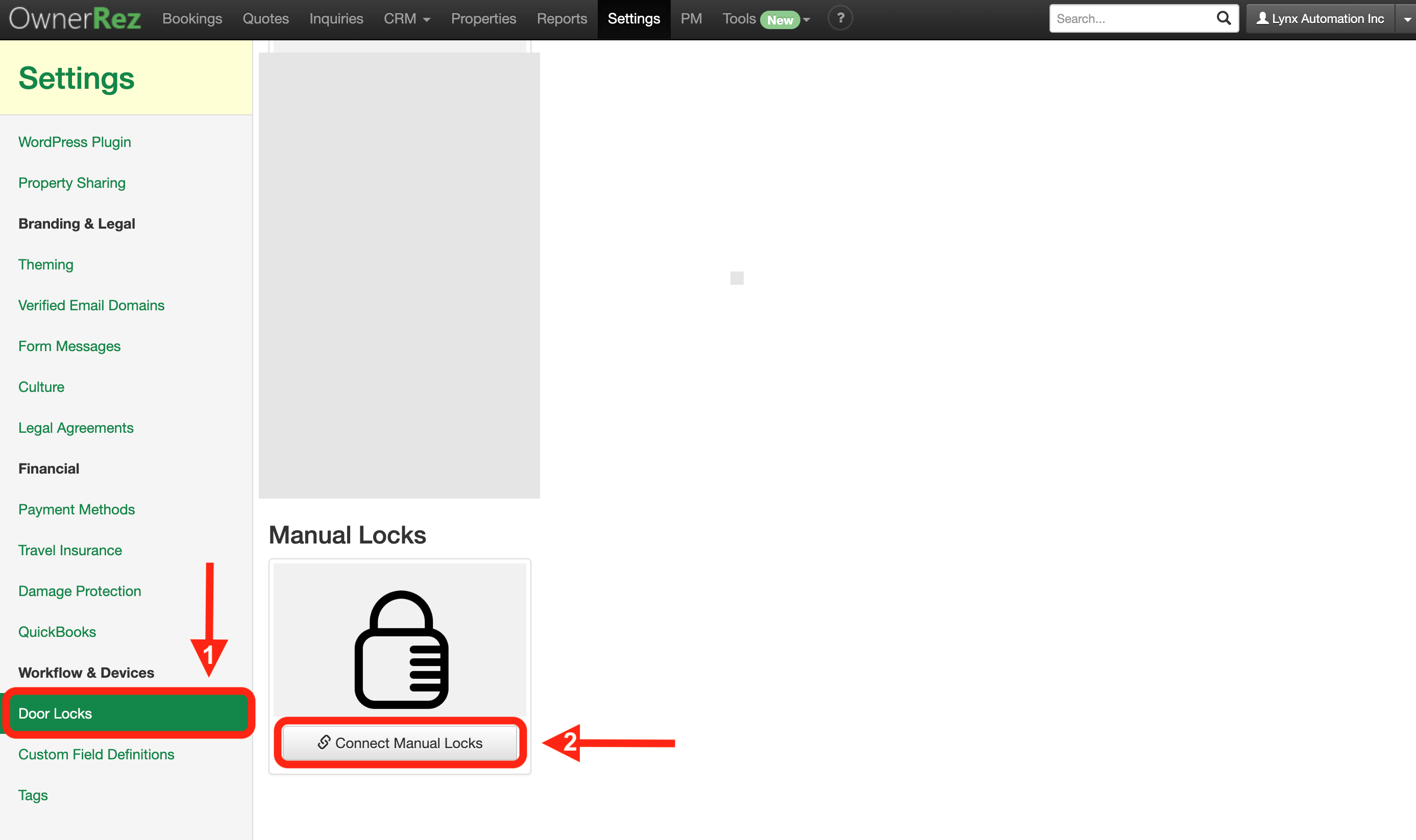 Make sure to mark the option to don't generate the access code




Assign all properties to the lock you have just added








Above steps needs to be completed on OwnerRez before adding integration to Lynx
2. Add the OwnerRez integration on Lynx portal and authorize Lynx. This is a one-time process.
You are only able to complete this process if you are the account admin for your company.
The Process:
Process for adding OwnerRez integration

Step 1:

Go to the Lynx integrations page (https://app.getlynx.co/settings/integrations)



Select OwnerRez on the Partner dropdown and add the integration.





Step 2:

Now the OwnerRez integration is added, click Authorize button, this will redirect you to OwnerRez app



Step 3:

Now you should be logged in on the OwnerRez app.



Step 4:

OwnerRez app will ask you to authorize the Lynx Automation app, please authorize it

.



Step 5:

You will be redirected back to the Lynx integrations page and the integration will be authorized


3. Link each OwnerRez property to the Lynx property
To start syncing reservations follow the steps to link each property
Tip: Authorizing an integration does not link devices or PMS listings to a specific property. When ready to start syncing reservations link PMS listing to each Lynx Property.
4. See Lynx-generated access code in OwnerRez (Automatically completed, no action required by customer)