Recommended Hub & Lock: Samsung Hub & Yale Lock
Smart Devices Recommended for your Properties.
Hub : Samsung SmartThings
The Hub is also commonly called a Controller or a gateway. It is the heart of every smart network. Think of it as the 'control room'.

Hardware: Hub has an AC line power connection and also an Ethernet socket to connect to the internet.
Dimensions(W x H x D): 3.6 x 1.5 x 4.8cm
Input Voltage: 100 - 240 Volts (Also works with POE Switch)
Connectivity: The Hub can connect to hard-wired Ethernet, Wi-Fi, Building central Wi-Fi, or Cellular. The hub connects to Lynx cloud over the internet.
The Hub also has Zwave, Zwave Plus, and Zigbee to communicate with all the smart devices like Locks, Leak Sensors, Lights.
Wi-Fi Bands Supported: 2.4G and 5G
Cellular Bands Supported: None.
Lock: Yale any Zwave+ model (YRD, YRL, NTB, NTM, NTT)
This is a smart lock also referred to as e-lock or a digital lock. It means it has the capability to connect to the cloud via a Hub. It allows secure back and forth communication and can be controlled remotely from anywhere in the world.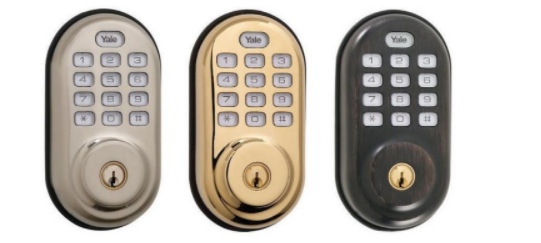 Hardware: This is a residential grade 2 lock. The lock has a backlit, push-button keypad to enter the 4-digit access code. It replaces the traditional deadbolt hardware on a door. It comes with the backup option to use regular keys. Marine-grade is available.
Battery: It uses 4 AA batteries. In long-term rental use, the batteries typically last for a year.
Connectivity: Zwave Plus.
Access Codes: At any given moment the lock can store 250 access codes.
Samsung & Yale: Without Lynx
Create access codes on-premise, not remotely.

Only the account owner can lock/ unlock the door remotely.

Cannot securely create guest, visitor or staff access.

Access notifications without user details.

Enterprise Dashboard not available.

Cannot manage 10+ units.
Samsung & Yale: The Lynx Difference
Create access codes for guests, visitors, or staff remotely.

Every authorized user can lock/ unlock the door remotely and securely.

Enterprise Dashboard to manage any number of units.

Search, Filter thru access Notifications with details of the user's name and role.

Maintenance alerts when the battery is low or device offline.

All other Lynx vertical solutions like guest communication, smart workflows, smart rules. Book more direct nights with automated stay extension and capture real emails.

Support for 200+ smart devices like thermostats, voice assistants, cameras, lights, etc.

PMS Integration, API Kit, and White-label guest portal.
Email: sales@lynx.co